Water Slides and Wet Fun
#1 Water Slide Rentals - Operation Jump LLC
Serving The Greater Austin Texas Area!
What are wet fun rentals and what does Operation Jump have?
Our wet fun rental are anything that uses water or can use water as a feature of the unit. Included in our collection of wet fun you will find: Inflatable Water slides, slip n slides, bounce house and water slide combos, and so much more. All these units have two things common, they're all wet and a ton of fun! Our inflatables are clean and satirized ready to be the perfect match for that hot summer day. Have you ever wanted to have you're own splash town or water-park in your backyard? Now you can! Operation Jump has the most extreme and fun water slides in Austin and the surrounding areas. We have all kinds of single lane and double lane water slides and wicked sweet combo units.
Looking for more?
Check out our highly recommended Bounce Houses, Obstacle Courses & Interactive Fun categories for more party equipment. We also have Concession Machines and carnival game style Backyard Games
Our bounce houses are made of quality materials and are cleaned extensively before and after every use. Your rental includes delivery and setup by experienced and safety conscious personnel.
This process should be simple. We have mastered taking the stress off event planners, Moms & Dads, Aunts & Uncles and Friends and family.
Booking is as easy as 1, 2, 3! Party!
First Step- make your equipment rental selection.
2nd Step - enter the date and times of your event and address.
Last Step- make your easy payment online and relax til your party or event.
Let our customer service take over from there. Our professional and courteous staff will delivery and setup the equipment, all fees are included on each quote. We love to make smiles and we aim to do it every time. We are always adding to our inventory and we love our community feedback.
Please also let us know of any special arrangements your rental may need, we aim to please each and every time.
We have a large selection and aim to be the best in Austin bounce house rentals and Austin moonwalks. Pick the best inflatable rental company around, pick Operation Jump LLC.
We are a party rental company working in around Austin, Leander, Pflugerville, Georgetown, Round Rock, Cedar Park, Leander.
Featured Water Slide Rental
19ft Thunder and Lightning Water Slide
There is a storm of fun heading your way! Get your kids ready for a striking time, with the 19ft Thunder and Lightning Water Slide. Each cloud has own its lightning bolt to charge your kid's speed as they race down the slide. Watch your little ones summon the power of the storm. Whether you're harnessing the power of lightning, or simply enjoying the calm of the storm, this water slide starts the party!
Book Online Now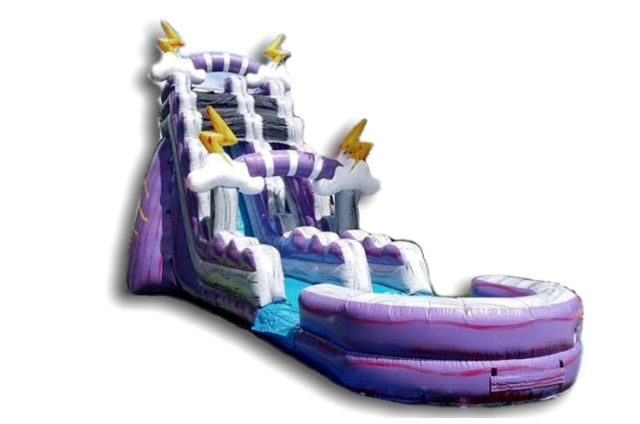 Making Waves at Every Celebration with Water Slide Rentals
In the heart of Pflugerville and Round Rock, where the sun shines bright and community ties are cherished, Operation Jump has become synonymous with unparalleled fun. Our water slide rentals are not just attractions; they're experiences, designed meticulously to infuse every event with a splash of excitement.

Every curve, every slide, and every drop is crafted with precision, ensuring that both the young and the young-at-heart can revel in the thrill without a worry in the world. But what truly sets our water slides apart is the stories they help create. Stories of laughter, camaraderie, and the sheer joy of letting go. Imagine a summer afternoon, where children queue up, their faces lit with anticipation, waiting for their turn to ride the waves. Parents, with cameras at the ready, capturing moments that will be cherished for years to come. And as the sun sets, casting a golden glow, the air is filled with tales of daring descents and playful splashes.

So, whether it's a neighborhood carnival, a school fundraiser, or a simple backyard gathering, our water slide rentals promise to elevate it, making it an event to remember. Because at Operation Jump, we don't just rent water slides; we bring dreams to life, one slide at a time.

Join us in this journey, and let's make waves together!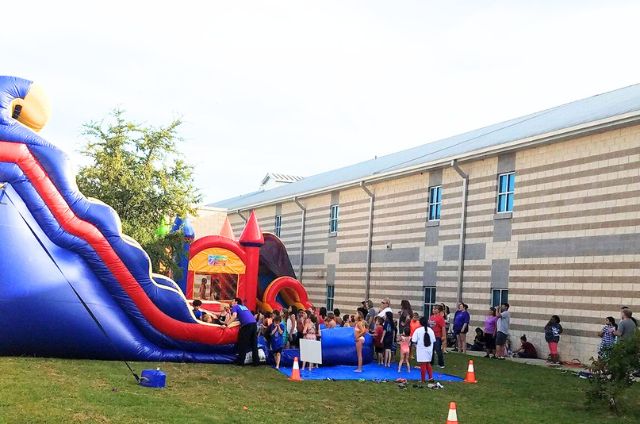 Community Splash: The Magic of Water Slides
The sun blazes overhead, casting a golden hue on the ground. Laughter fills the air, punctuated by the excited shrieks of children. At the heart of this jubilation stands a towering water slide, glistening under the sun, beckoning every child to embark on a thrilling aquatic adventure.

At Operation Jump, we believe in turning ordinary community events into extraordinary memories. Our water slide rentals are not just inflatables; they are catalysts for joy, bringing together children and adults alike in a shared experience of fun and exhilaration. Picture this: a child climbs to the top, anticipation evident in their wide eyes. With a gentle push, they're off, sliding down, water splashing around, until they land with a triumphant splash, eager to race back and do it all over again.

But it's not just about the slide. It's about the community it fosters. Parents chatting by the sidelines, children making new friends in the queue, and everyone coming together to celebrate the simple joys of life. In Pflugerville, where community values run deep, our water slides have become a symbol of unity, bringing neighborhoods closer, one slide at a time.

Our true mission is to help you create lasting memories. Years from now, these children might not remember the exact shape or color of the water slide. But they will remember the feeling - the rush of the slide, the cool splash of the water, and the joy of a day spent in the company of friends and family.

So, the next time you're at a community event and see an Operation Jump water slide, know that it's more than just a ride. It's a testament to the power of community, the magic of childhood, and the timeless joy of a good old-fashioned splash!
Water Slides and Wet Fun Rentals in Round Rock With On Time Delivery
Your family will thank you for hours of fun! Show your party some excitement with a unique water slide. With Operation Jump, customer service is our top priority; we'll make you the hero and handle the rest. Order your inflatable water slide within a selected time frame, and enjoy our rentals at a great price with free and punctual delivery! Overnight and additional days are available at an additional fee. Let us help! Be the hero of your event by choosing from our unique selection of water slides by Operation Jump!
Why Choose Operation Jump LLC for Water Slides and Wet Fun Rentals in Round Rock?
Operation Jump has a large selection of water slide rentals in the Round Rock and surrounding area, and we can bring the fun to you. We know how stressful and overwhelming it can be when planning a party. At Operation Jump, we want to take away that stress by providing everything you need for your next event. We want to make the process easy and safe and memorable event.

Beyond the thrill of our water slide rentals, our commitment to safety and quality remains unwavering. Every water slide undergoes rigorous checks, ensuring they meet the highest standards of safety. After all, at Operation Jump, we believe that true fun is in the peace of mind, knowing that every slide, every jump, and every splash is backed by our promise of safety.

If you are ready for your next big event, let us handle your next party rentals. Making sure you have a dependable team in order to make your party a success is our specialty. We ensure that each slide is properly cleaned for your safety. Condition safety and cleanliness are our top priorities for all our equipment. Plan your next party or event in confidence with Operation Jump. Join us in our mission of fun!
Do You Deliver Water Slide Rentals Near Me?
Expect A++ customer service from the moment you book your party rental to the time we haul everything away. We take pride in being your one-stop shop for all things party rentals in Hutto, Texas. Enjoy fully sanitized, safe, commercial-grade party rental attractions for any event you can think of such asEvent Staff, Concessions, Tables and Chairs, Obstacle Courses and Interactives, Bounce Houses, Interactive Games, Bounce House with Slide, Water Slides and Wet Fun, and much more! From wild parties to intimate gatherings in we've got your back.
Our Service Area
Proud to Serve The Following Areas:
If your party or event is beyond that radius, just let us know! We may be able to make special accommodations to suit your event.
NOTE: Fees may vary depending on how far you are outside our service area.
https://www.google.com/maps/d/u/2/embed?mid=1she12S1ldPu_jqlwbselYvUohSQlLdo&ehbc=2E312F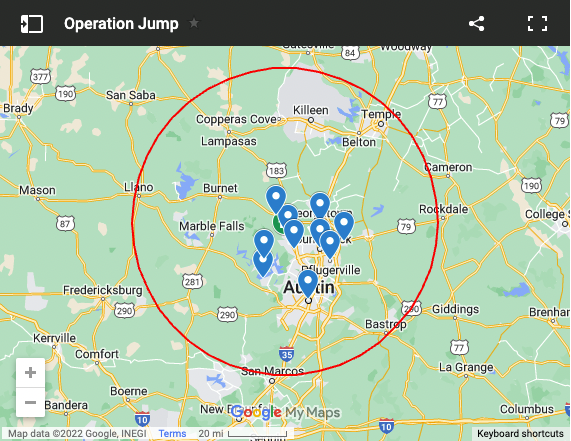 People That Rent Water Slides and Wet Fun Also Shop For: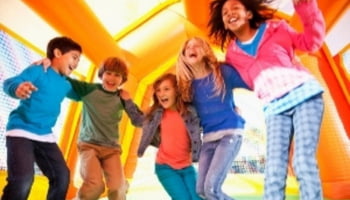 Bounce Houses
You can't go wrong with an inflatable bounce house rental. If you're hosting a backyard party and need a simple colored bounce house or you need a large bounce house, we've got you covered.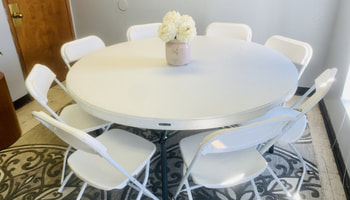 Tables and Chairs
You can really never have enough tables or chairs once guests start coming in to play at your party. Lucky for you, Operation Jump offers a wide selection of tent, table, and chair rentals.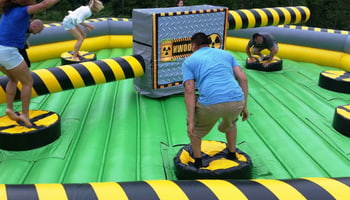 Interactive Games
Bring the crowd together to take on the challenge of fun inflatable game rental, from Sumo Wrestling Suits to Axe Throw games, we've got everything you need to keep the crowd busy.
Frequently Asked Questions About Renting Water Slides
Why choose Operation Jump?
Operation Jump is Austin's premier source for safe, clean and affordable entertainment for all ages. Throughout the years, we have provided fun and games at well over 7,000 parties and events. Our professional drivers and staff are friendly and well-trained. We routinely clean and inspect all of our equipment before allowing its use. We are licensed and insured for your safety.
What type of parties and events do you provide inflatable Rides and Games for?
Whether you're planning a large festival, community, school, religious event; or backyard party, Operation Jump provides fun rides and equipment for every occasion. Our experienced Event Services Team can assist in planning your event or we can handle everything for you.
How far in advance should I place my reservation?
For your convenience, the fastest way to reserve your party or event equipment is through our website www.operationjump.com. Please make your reservations as soon as possible. All of our Rides and Games are very popular and often booked weeks and even months in advance. The sooner you call, the more likely you are to be able to obtain the item you want.
What form of payment do you accept?
In addition to business checks (with prior approval), we accept Visa, MasterCard, Discover, and American Express. If you are paying with cash, please have the correct amount. For their safety, our drivers do not carry change.
Do you offer multi-unit discounts?
Operation Jump strives to provide entertainment value without sacrificing quality and safety. In order to assist you in your selection process, our website clearly states pricing and indicates the availability of all of our rides, games, and equipment. Please see the Package Specials portion of our website for additional discounts or simply call for a customized rental quote. For pricing or questions regarding large festivals, carnivals, fundraisers, profit-sharing, pay-per-ride events, staffing, etc., Please call us, We can assist you with event planning or handle the entire event for you.