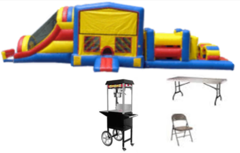 Super Slide with Obstacle Course Combo Package
Actual Size: 40' x 15'
Setup Area: 45' x 20' plus room for set of chairs with 6' table, 4 sqft snowcone machine, 3 sqft popcorn machine
Outlets: Minimum - 3 outlets
Age Group: Recommended minimum age - 5 years old
Attendants: 1 monitor required




This 5 in 1 Combo Package is PACKED FULL OF FUN!!! It comes with the 40 foot 5 in 1 combo! Also inclusive are the Polar Bear Pete Snow Cone Machine and and a classy popcorn machine with a cart and storage bin for all your delicious supplies. To complete this package it comes with 1 table and 6 chairs where everone can sit and rest from their fun adventures and enjoy all the fruits this package has to offer. HAVE FUN!!!

Please Note - The Polar Bear Sn

This bounce house is 15 x 15 with a wide slide that you get to by climbing a 6 ft rock wall, then quickly slide on down. At the end there is a wide bumper to prevent anyone from sliding to the ground and keeping everyone safe from bumps and bruises on the ground. In addition, the entrance to the bounce house has a ramp to climb up into a low opening. The ramp makes it easy to climb in from the ground and also to prevent anyone from falling to the ground if they go out that way. The low entrance cover helps to prevent anyone from falling out as well while they're bouncing. On all sides except for the slide, there is a see through netting making it easy to monitor your kids while having a blast inside. Also the slide itself has a see through netting to keep them on the slide and not over the edges, also making it easier to monitor safe behaviors while going down the slide. At all corners of this fun piece are heavy weighted straps that are used to stake down the bouncer and helps prevent accidents from tipping during high winds. Once inside the bouncer don't forget to bring a soft ball to enjoy playing some hoops on the inside. Over the top of this bouncer is an attached cover that provides shade from the sun which keeps everyone cooler and enjoying themselves throughout the day. As if the hoops, bouncing, and sliding wasn't enough fun, there is a 15 ft obstacle course coming out of the opposite side as the slide. This is perfect to add an additional challenge for the competitive little ones, and those who just love to have fun making their way through obstacles. This is great exercise and great family fun! Be sure to take many pictures and feel free to share them to our facebook page or any other social media.

Upon ordering this package, don't forget to add on extra Popcorn Servings if needed.